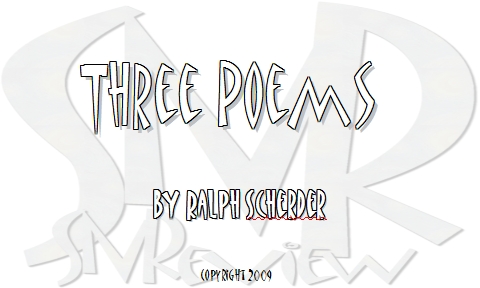 The Window Cleaner
Thirty stories above the pavement,
he watched himself in the windows all day.
Dirty or clean made no difference –
he was ugly.

He took me up with him once.
"Life is balance," he said.
"You learn quickly what life means up here."

His forearms were huge from wiping
glass eight hours and replacing panes.
He lost himself in motions and thought –
the air was thin and light
and perfect for thinking.
He said he sometimes zoned out completely
until he only heard birds chirping on the ledges
and the mysterious hum of cars
on the streets below.

I replaced him three months later –
the world was ugly, and the wind caught him.

He was beautiful, I hear –
cleansing air beneath outstretched wings.
Air that lifted and made him
look like he was soaring
even as he fell...

Thirty stories – that's a long way down,
a long time to think.
Rocks
At six years old I followed you
along stream banks tossing rocks
into pools you'd already fished – sometimes
I used the rocks to build pyramids,
miniature temples on the shore
where little souls came to pray.
On my hands and knees in the sand, I peeked
into the gaps between the rocks.
I don't know what I saw in there – maybe it was
the smell of rocks I'd dredged up from the stream bottom
that interested me. Sometimes I turned them over
and found insects and mayfly nymphs
clinging to the slick surfaces and the smell of mud,
the smell of ancient basements, perhaps the kinds of places
where I hid my fears of you, too proud
to let you know I did fear you
when you kicked the rocks apart, said,
"What the hell are you building?" And you
gave me your creel of trout to carry instead –
as if that alone proved your love for me.
When I lagged behind you said, "Keep up,
you're slowing me down."
So I kept up – and despite everything, even then,
you knew I'd follow you anywhere.
The Sandals
Brown leather sandals
on the edge of a slow-swirling pool
where feathers of tame ducks
turn like white sailboats.
The sandals still show the outlines
of her toes, perfect as two feet
standing on the sandy shore.
She wades softly, her dress
hiked up, so I can see
the feathers clinging
to her wet legs.